MANAGEMENT OF TECHNOLOGY DEVELOPMENT AND FINANCING OF INNOVATIVE PROJECTS IN THE INDUSTRIAL SECTOR OF THE ECONOMY USING MARKETING TOOLS
Veselovsky M.Ya.

LEONOV Moscow Region University of Technology, Korolev, Russia

Pogodina T.V.

Financial University under the Government of the Russian Federation, Moscow, Russia

Chueva I.I.

LEONOV Moscow Region University of Technology, Korolev, Russia
Аннотация
At present, Russian industry is under severe economic and political pressure from the EU and the USA, which is an additional incentive for the development of the industrial complex, based on the fullest possible mobilization of internal reserves (social, economic, innovation-technological, financial). The dynamic development of the industrial complex reflects the general evolutionary trend in the development of society, which necessitates the solution of not only traditional, but also new tasks and problems that were previously not inherent in the economy. The traditional problems of the Russian economy and industry include the lack of its own (internal) financial resources to support production activities, as well as administrative and legislative contradictions. New tasks include the need to improve and create new organizational and economic structures for innovative activities, develop a set of measures and programs to improve the innovation and investment climate, generate demand and commercialize the results of scientific and technical activities. The article substantiates and proposes a conceptual approach to the formation and implementation of innovation marketing in industrial companies, which includes target settings, an innovation management system and the results of the introduction of innovation marketing in the activities of industrial companies. A comparative analysis of various models of financing innovation and investment projects was carried out, which made it possible to highlight the advantages of project financing in the conditions of Russian reality. Thus, it was concluded that the Russian economy should change the vector of development and focus on the maximum use of internal potential by increasing industrial production on an innovative and technological basis, strengthening the investment component of development. To increase the innovative activity of industrial economic entities, it is advisable to use more actively marketing tools and digital technologies.
Keywords
industrial sector, innovation and investment processes, innovation marketing, marketing tools, project financing
References
Komarnitskaya E.V. Marketing v sisteme upravleniya konkurentosposobnost'yu predpriyatiya [Marketing in the enterprise competitiveness management system]: Abstract of the dissertation for the degree PhD in Economics. Donetsk, 2019. 28 p. (In Russ.).
Safronchuk M.V. The Impact of Digital Transformation on Business and Business Environment // Economics and Management: Problems, Solutions. 2018. Vol. 2(3). Pp. 38-44. (In Russ.).
Kiselevich A.I. Organization of the Process of Technology Commercialization in the Russia Federation. In Proceedings – Mezhdunarodnye otnosheniya: istoriya, teoriya, praktika [International relations: history, theory, practice]: materials of the X scientific-practical conference of young scientists of the Belarusian State University, Minsk, February 5, 2020. Minsk: Belarusian State University, 2020. Pp. 160-164. (In Russ.).
Mikhailov D.A., Volkova Z.N., Grigirieva I.V., and Khorokhorina G.A. Current problems of commercialization of innovations in the production sphere of the Russian Federation // Economic Science. 2019. Vol. 180. Pp. 71-74. (In Russ.). DOI: 10.14451/1.180.71
The Global Competitiveness Index (2019). NoNews. (In Russ.). URL: https://nonews.co/directory/lists/countries/global-competitiveness-index (accessed on 14.05.2021).
Gnezdova Ju.V., Kugelev I.M., Romanova I.N., and Romanova Ju.A. Conceptual Model of the Territorial Manufacturing Cooperative System Use in Russia // Journal of Internet Banking and Commerce. 2016. Vol. 21(S4). P. 012.
Ergashhodjaeva Sh.Ja. Genesis of the Concept of the Essence of Innovation Marketing // ISJ Theoretical & Applied Science. 2018. Vol. 03(59). Pp. 113-119. DOI: http://dx.doi.org/10.15863/TAS.2018.03.59.16
Federal State Statistics Service (2021). (In Russ.). URL: http://www.gks.ru/ (accessed on 02.06.2021).
Pereverzeva V.V. Project finance mechanism for investment project realization // Vestnik of the Plekhanov Russian University of Economics. 2018. Vol. 3(99). Pp. 24-32. (In Russ.).
Aladayleh Kh.J., Alvarado L.E.M., and Jafaari A. Innovative Marketing Approach in Project Management: A Market orientation perspective // Journal of Innovations in Digital Marketing. 2020. Vol. 1(1). Pp. 8-15. DOI: http://dx.doi.org/10.51300/jidm-2020-14
Stanchik Horizontal and Vertical FDI Spillovers: Recent Evidence from the Czech Republic // CERGE-EI. 2007. Vol. 340. DOI: 10.2139/ssrn.1093662
Venture Russia. Results 2020 (2021). DSight. (In Russ.). URL: https://www.kaspersky.com/ihub/assets/Report_Venture_Russia_FY2020_RUS.pdf (accessed on 20.05.2021).
About the Authors
Mikhail Ya. Veselovsky – Doctor of Economics, Professor; Head of the Department, LEONOV Moscow Region University of Technology, Korolev, Russia. E-mail: consult46@bk.ru. SPIN РИНЦ 8335-7740. ORCID 0000-0002-1078-3235
Tatyana V. Pogodina – Doctor of Economics, Professor; Professor, Financial University under the Government of the Russian Federation, Moscow, Russia. E-mail: ods@fa.ru. SPIN РИНЦ 7071-2464.
Irina I. Chueva – PhD of Economics, Docent; Associate Professor, LEONOV Moscow Region University of Technology, Korolev, Russia. E-mail: ii.chueva@mail.ru. SPIN РИНЦ 9063-2325. ORCID 0000-0002-6053-5045
For citation
Veselovsky M.Ya., Pogodina T.V., and Chueva I.I. Management of Technology Development and Financing of Innovative Projects in the Industrial Sector of the Economy Using Marketing Tools // BENEFICIUM. 2021. Vol. 3(40). Pp. 5-10. DOI: 10.34680/BENEFICIUM.2021.3(40).5-10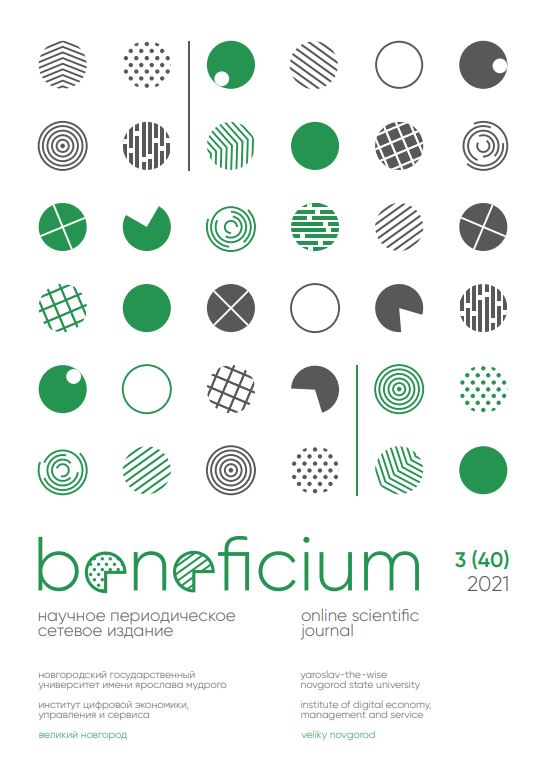 Раздел
ВОПРОСЫ ТЕРРИТОРИАЛЬНО-ОТРАСЛЕВОГО РАЗВИТИЯ СОВРЕМЕННОЙ ЭКОНОМИКИ